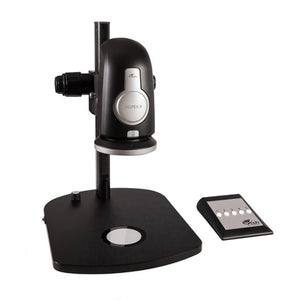 INSPEX II Digital Microscope System
The INSPEX II digital inspection microscope is everything you need in a robust, dependable inspection instrument: easy to use, measurement tools, real-time video, preset configurations, pre-calibrated, and so much more!
Key Features
AshCal™ Calibration Tracking continually adjusts and maintains calibration for accurate measurements across the entire zoom range.
On-Screen Preset Buttons allow quick access to pre-configured part-specific systems settings.
2-D Line Measurement enables on-screen overlays rapid go/no-go inspection of samples.
User access control manages system-related operation to standardize inspection and eliminate operational error.
One click Auto Focus provides instant indication that the sample is in focus.
Specifications
1080p Digital inspection station with 5D lens
200mm working distance (with 5D lens, included)
Magnification range: 2.2x - 132x (on 24" monitor)
Maximum magnification: 66x optical, 132.2x digital
Camera resolution: 1920 x 1080, 60fps
HDMI output, four USB 2.0 ports, mini USB, three general purpose I/O ports, DC power jack
Internal image storage, removable USB image storage, USB on the go (PC Connectivity)
Integrated LED ring light with intensity and quadrant control; LED Lamp life approx. 40,000 hours
Wireless keyboard and wireless mouse included
HDMI-to-HDMI cable, mini USB cable and USB memory stick included
Grounding cable included
Optional objectives: +10D, +25D, 2x Plan, 0.3x , 1x Plan, 0.5x Plan APO, 0.5xwd
REQUIRES STAND. Stand not included.
REQUIRES MONITOR. Monitor not included.
Shipping weight 7lbs.